This is an archived article and the information in the article may be outdated. Please look at the time stamp on the story to see when it was last updated.
The wife of a celebrity hairstylist who was found dead in his backyard in January has been arrested on suspicion of killing him with the help of a man she was having an affair with, Los Angeles police said Friday.
Fabio Sementilli, 49, was discovered stabbed to death in a pool of blood behind his Woodland Hills home on Jan. 23.
Monica Sementilli, 45, and Robert Baker, 55, of Canoga Park were arrested Wednesday, when multiple search warrants were also served, LAPD officials said Friday.
The alleged lovers have each been charged with one count of murder with allegations of lying in wait and that the crime was carried out for financial gain, the Los Angeles County District Attorney's Office said. Baker allegedly used a knife.
The suspects were in an "intimate relationship" for about 1 1/2 years, during which time the victim and Monica Sementilli remained married and living together, police said.
Fabio Sementilli, a Coty Inc. executive, had stab wounds to his neck and upper torso when he was found by his daughter about 5 p.m. on the porch of his home in the 5000 block of Queen Victoria Road.
He was "brutally murdered," said LAPD chief of detectives Justin Eisenberg, who also called it a "particularly vicious murder."
The Los Angeles Police Department's high-profile Robbery-Homicide Division assumed the investigation in March. Detectives found two individuals wearing hoodies had "jogged" up to the Sementilli home about 45 minutes before the victim's body was found; one of those people is still at large and the other is believed to be Baker, police said.
DNA evidence connected Baker to the killing, police said. Baker found the victim sitting on his patio, where he stabbed him, the DA's office said.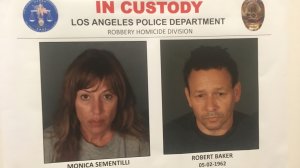 Monica Sementilli was not involved in the "actual physical act" of the killing but was "directly involved" in planning the homicide and "orchestrated things,"  police Capt. William Hayes said.
The victim's Porsche 911 was found about 5 miles from the Sementilli home the night he was found killed; private surveillance video showed a person leaving the car, Eisenberg said. Prosecutors said Baker stole the car and abandoned it.
Hayes connected the financial gain allegation to Fabio Sementilli's life insurance, saying Monica Sementelli was the direct beneficiary of the $1.6 million policy.
The suspects are being held without bail. When asked how the pair met each other, Hayes said they both belonged to the LA Fitness gym in Woodland Hills.
The person still being sought is described only as about 5 feet 5 inches to 5 feet 7 inches tall with a stocky build. He wore a hoodie pulled tight to his face. He's believed to be an associate of Baker, Hayes said.
Baker has a 1993 conviction out of Long Beach for lewd and lascivious acts with a minor and is a registered sex offender, Hayes said.
The suspects could face the death penalty.