This is an archived article and the information in the article may be outdated. Please look at the time stamp on the story to see when it was last updated.
Fans of Marilyn Monroe and historic preservationists who fought to protect a small home in Valley Village where the star lived when she was still a young Norma Jean Dougherty are furious that the structure was bulldozed suddenly this week.
The home at 5258 Hermitage Ave. (map) was demolished beginning Monday, just days before a city commission was set to consider it for landmark status.
The Los Angeles Cultural Heritage Commission was due to consider a bid to protect the developer-owned property on Thursday. But neighbors discovered the two single-story homes on the parcel were being knocked down on Monday.
Workers were on scene Wednesday, when the parcel was a field of rubble.
By early afternoon, however, the work was shut down by regulators after a representative from the South Coast Air Quality Management District arrived on scene, saying proper paperwork had not been filed in advance of the demolition.
A yellow notice to comply from AQMD was posted on the construction fence surrounding the property, stating in part that asbestos abatement documents were needed.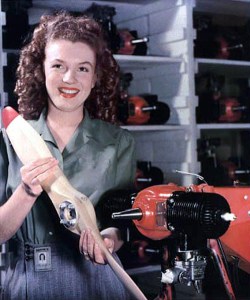 City officials had recommended rejecting an application to declare the property a historic-cultural monument, according to a report from municipal planning staff. The home was found not to be significant enough to warrant protection, largely because Monroe did not live there during a productive period in her storied career.
Though Monroe is an icon, she had more than 30 residences in the L.A. area, said Ken Bernstein, director of the city's Office of Historic Preservation.
Married as a 16-year-old, L.A. native Norma Jean Dougherty lived there with her in-laws during World War II, from 1944 to 1945. During that time, the teen worked inspecting parachutes and spraying fire retardant on airplane parts, and was discovered as a model by a photographer working for then-Army publicist Capt. Ronald Reagan, according to the city staff report.
Dougherty went on to become a professional model and then actress, changing her name to Marilyn Monroe and divorcing her young husband, Jim Dougherty.
The small home where she lived with her in-laws, a rear house, was built around 1912, before the surrounding area was annexed to the city of Los Angeles, according to the city.
There are now apartment buildings on either side of the corner lot.
Supporters of the preservation effort say the developer tore the home down just after the Cultural Heritage Commission hearing was announced, and before the commission could intervene, according to the Los Angeles Daily News. They also accuse him of failing to give 30-day notice of his plans.
The developer, Joe Salem of Hermitage Enterprises LLC in Chatsworth, wants to build condominiums on the site, CurbedLA reported. Salem did not respond to KTLA's request for comment Wednesday.
The three-bedroom townhomes would cost about $1 million each, according to a posting on real estate website RedFin.
More Video: