This is an archived article and the information in the article may be outdated. Please look at the time stamp on the story to see when it was last updated.
Police asked for the public's help Wednesday identifying two suspects caught on surveillance video burglarizing a Van Nuys home.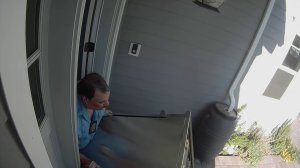 In photos released this week, the two men are seen entering the residence in the 14000 block of Maida Street on May 22 and leaving with a Viking range on a dolly, according to the Los Angeles Police Department.
The first suspect broke through the rear door of the residence, removing the alarm panel from the wall and throwing it in the backyard, police said.
The suspect returned later in the day with a second individual, removing the kitchen range and loading it into a white Ford van. The suspects then fled the scene.
The first suspect is described as a 40- to 45-year-old white or Hispanic man weighing about 280 to 300 pounds shown with a blue short-sleeved shirt and blue jeans, according to police. The second suspect is described as a 20- to 25-year-old Hispanic man weighing about 160 to 170 pounds shown with a yellow safety vest, white shirt and blue jeans.
Anyone with information about the burglary was asked to contact police at 818-374-0029 or 818-374-0031. Those wishing to remain anonymous can also call Crime Stoppers at 1-800-222-TIPS (800-222-8477).
#LAPD News: @lapdVanNuysDiv asking for the public's help to ID susps involved in a burglary on 5/22 Click 4 details https://t.co/zaXFPXrSPO pic.twitter.com/LOqFPsAjx0

— LAPD HQ (@LAPDHQ) June 7, 2017