This is an archived article and the information in the article may be outdated. Please look at the time stamp on the story to see when it was last updated.
A white van struck seven vehicles along Pacific Coast Highway before crashing onto the beach near the Ventura-L.A. County line, where the van's driver hid from authorities among the rocks until he was arrested overnight, authorities said Friday.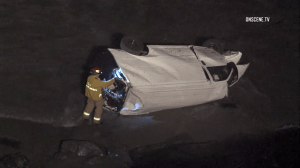 Deputies were called about 11:15 p.m. Thursday with a report that a reckless driver was striking parked cars along Pacific Coast Highway, Los Angeles County Sheriff's Department Officer Morales said.
The van eventually collided with several moving vehicles near Yerba Buena Road and then tumbled down onto the sand. Ventura County firefighters responded to the wrecked, unoccupied van, which was stuck in the surf, video from the scene showed.
The suspected van driver was found hiding among rocks at the beach and was eventually arrested by deputies, sheriff's Sgt. Covarrubias said. He had a major injury and was taken to a hospital in Ventura County.
The sergeant said one other person had a minor injury, but the Ventura County Fire Department said five people were hospitalized with minor-to-moderate injuries.
Video from the scene showed multiple motorists stopped along the side of PCH with damaged vehicles.
KTLA's Alexandria Hernandez contributed to this article.
Car into surf last nite just north of County Line. Multiple cars involved, 5 people taken to hospital with minor to moderate injuries @VCFD

— VCFD PIO (@VCFD_PIO) August 4, 2017
A car went over the side and into the surf last nite around 1130. It hit several cars in Malibu before crashing.@VCFD pic.twitter.com/bxNdoGt14X

— VCFD PIO (@VCFD_PIO) August 4, 2017