This is an archived article and the information in the article may be outdated. Please look at the time stamp on the story to see when it was last updated.
Firefighters extinguished a blaze at a restaurant in Santa Monica that was apparently sparked when a car crashed through the back of the business on Wednesday morning.
The incident occurred at Cafe de Paris, which is on Montana Avenue near Seventh Street in a small shopping center. A Spumoni restaurant was located next door to the cafe, but it was unclear whether the flames had spread to the neighboring business.
Fire crews initially responded to a report of a vehicle fire shortly before 8:30 a.m., according to a tweet from the Santa Monica Fire Department.
Around 8:30 a.m., heavy smoke and flames were seen coming from the rear of the cafe and shooting up through its roof, Sky5 video showed.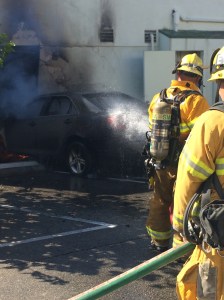 The car was partially in the building and also on fire. It appeared to have crashed through the business from the parking lot, though it was not immediately known what caused the collision.
Ten minutes later, fire crews appeared to be gaining the upper hand on the blaze in the restaurant.
However, the vehicle was still burning, and firefighters were still working to extinguish the stubborn blaze nearly an hour after the fire started.
Around 10:45 a.m., Santa Monica fire officials said they had extinguished the blaze.
It was not immediately clear if anyone was injured in the fire. The business was open when the flames erupted, but it was unknown how many people were inside at the time.
Authorities also have not released any information about the driver of the car.
Montana Avenue appeared to be completely shut down between Seventh Avenue and Lincoln Boulevard, as multiple fire trucks were seen parked in the middle of the street near the restaurant, aerial video showed.
The street was expected to remain closed until around 1 p.m. as crews cleaned up the scene, according to the Fire Department.
The fire burned on a stretch of Montana Avenue known for its upscale boutique stores and restaurants. An elementary school, Starbucks coffee shop and Pavilions grocery store were all located less than a block away from where the incident occurred.