This is an archived article and the information in the article may be outdated. Please look at the time stamp on the story to see when it was last updated.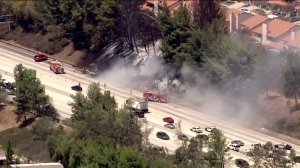 A vehicle fire spread through vegetation and threatened a condominium complex in Porter Ranch on Thursday, according to the Los Angeles Fire Department.
The fire was reported just after noon on the 118 Freeway at Tampa Avenue (map), according to LAFD's Brian Humphrey.
A burnt-out vehicle was stopped on the right-hand shoulder of the freeway, aerial video from Sky5 showed.
Fire engines were blocking the right two lanes of the freeway as firefighters doused trees between the vehicle and the condo complex. Westbound lanes were backed up for several miles.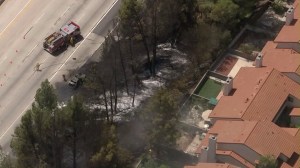 A half-acre of brush was burning and threatening a complex in the 19100 block of Lahey Street, Humphrey said.
The blaze was confined to the area alongside the freeway and was knocked down in 33 minutes by 81 firefighters, he said.
No one was injured and no evacuations were ordered.
It was not known what caused the vehicle fire, and the final burned acreage was not determined.