This is an archived article and the information in the article may be outdated. Please look at the time stamp on the story to see when it was last updated.
A vehicle belonging to a couple reported missing on Friday after going on a hike in Joshua Tree National Park has been recovered, authorities said as the search for the hikers continued Monday amid intense heat.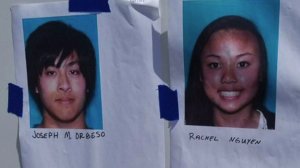 Search and rescue crews are out looking for Rachel Nguyen and Joseph Orbeso, who were hiking in the area on Thursday and reported missing the following day, according to a news release from the National Park Service.
The last sign of the couple was a ping on the man's cellphone recorded about 4 p.m. Thursday, the release stated. It is believed they went missing some time after 6 a.m. Friday, according to a post on the Joshua Tree Search & Rescue Facebook page.
Crews were called in after the vehicle, a burgundy Lexus, was found in the vicinity of the Maze Loop, near the park's west entrance, about 4 p.m. Friday. Trackers processed the tracks near the vehicle, and believe the two were headed north into a canyon before their disappearance.
Family members said the pair were experienced hikers. Nguyen's uncle said the couple planned a trip to the national park to celebrate Nguyen's birthday. The young couple was staying at an Airbnb, and the property's owner reported them missing when they failed to check out as scheduled on Friday, the uncle said.
Several search teams have been deployed, as well as dogs who picked up a scent. Two fixed-wing aircraft and two helicopters have also been utilized during the search, said George Land, a ranger and spokesman for the park.
There's no reason to suspect foul play, he said.
"We believe, unfortunately, we've got two young people that have gotten lost in the park, and we're doing our best to try to find them," Land said.
Sixty to 100 searchers are working on and off the trail in the park in one of the largest searches in Joshua Tree in several years, Land said.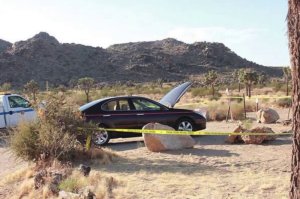 Temperatures are around 100 degrees and there is no water in the park, making the conditions a critical factor, he said.
"Heat's definitely a factor," Land said. "People don't realize it — even the act of breathing, in this environment, uses an enormous amount of moisture."
But he said there is still hope for finding the young couple.
"We're not giving up hope. We've had people that have lasted in conditions like this five to six days. It's not an impossibility," Land said. "We've got to find these people."
Anyone who has seen or had possible contact with either of them is urged to call 760-831-7633 or Park Dispatch at 909-363-5651.