This is an archived article and the information in the article may be outdated. Please look at the time stamp on the story to see when it was last updated.
A vehicle hit and seriously injured four pedestrians in Los Alamitos before crashing near a building Wednesday afternoon, authorities said.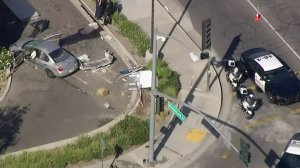 A call came in at about 2:11 p.m. about the crash near Ball Road and Bloomfield Street, and there was a total of five people injured, Capt. Larry Kurtz of the Orange County Fire Authority said.
The driver, a 37-year-old woman, was also injured in the collision, authorities later said.
While police are investigating the crash, they said the use of drugs or alcohol is not suspected, authorities said.
The car was traveling on Bloomfield Street when it started going northbound in the southbound lanes, police later said in a news release.
After going through the intersection, the car struck the four people standing at one corner, seriously injuring them, police said. Their injuries are not expected to be life-threatening.
While the car drove off the road, stopping near a building, it did not hit that building, police said.
One witness told KTLA the four people hit were walking across the street at a crosswalk just before the crash.
"I was sitting at the red light … waiting for it to turn green," Rachekl Wantuch said. "And then I saw the four people crossing the crosswalk. After they went out of my view, behind the trucks, I heard a collision."
Police later said the people hit included two men, ages 18 and 19, who are students at an instructional program at the Los Alamitos Unified School District and the other two people with them, a man and a woman, are instructional aides with the program.
A witness at the scene said the group consisted of two adult special needs students and two school employees who were all walking to nearby grocery story to drop off recycled bottles.
"I was walking to my car and I heard a crash, horrible crash," Cindi Maddex said. "I just saw things fly and I literally ran across the street, and there were two bodies — they weren't moving."
Maddex said one of the victims appeared to be alive but was bleeding from the head.
"The boy next to me — he was alive," she said. "But he was groaning. He was making noise and I noticed blood was coming from his left temple."
Aerial video from Sky5 showed a silver sedan crashed next to a Chase Bank branch. Debris was strewn across the pavement next to the bank's drive-thru area.
All five people were taken to local hospitals to treat their injuries, authorities said, but their conditions have not been released.
KTLA's Jennifer Thang contributed to this article.