This is an archived article and the information in the article may be outdated. Please look at the time stamp on the story to see when it was last updated.
Authorities were investigating Monday the death of a pedestrian who was struck by a vehicle on the northbound 5 Freeway in Boyle Heights, causing one of two lanes on the roadway to be closed, California Highway Patrol officials said.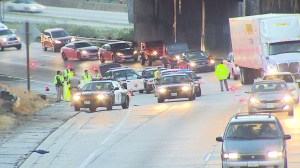 Officials responded around 4:36 a.m. to reports that a vehicle struck a pedestrian near Soto Street, CHP Officer Villalobos said.
A male pedestrian was found dead when officials arrived, he said.
Multiple vehicles stopped at the seen and officials were interviewing several people.
It was unknown if the driver of the vehicle that struck the pedestrian was present.
A SigAlert was issued for the northbound 5 Freeway around 5:02 a.m. saying one of two lanes was closed, according to CHP logs.
The SigAlert was later canceled, the CHP tweeted at 7:02 a.m.