This is an archived article and the information in the article may be outdated. Please look at the time stamp on the story to see when it was last updated.
A person who was killed in a high-speed crash in Upland may have been involved in a street race, witnesses said.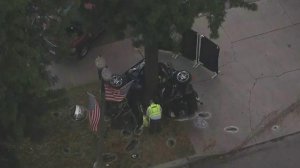 The crash was reported about 4:30 p.m. near the intersection of 8th Street and Euclid Avenue, and the victim's SUV was left wrapped around a tree, said Lt. Alan Ansara of the Upland Police Department.
The driver was apparently speeding, lost control of the vehicle and hit the tree, Ansara said. Alcohol may have also been a factor, Sgt. Marc Simpson said.
Witnesses at the scene told KTLA that the driver who was killed was in a Chevy HHR Supersport and was racing a person in a black or dark-colored Camaro. The Los Angeles Times reported that police have not found the other vehicle.
"It was very sad to see something like that happen" witness David Cutting said. He described the driver of the SUV as being "out of control."
Aerial video from Sky5 showed the mangled vehicle wrapped around the tree, with parts of the vehicle marked as evidence by authorities surrounding the area.
Friends of the victim who gathered at the scene described him as a man in his 20s.
It took firefighters nearly an hour to get the victim out of the vehicle and determined no one else was inside.
KTLA's Nidia Becerra contributed to this story.