This is an archived article and the information in the article may be outdated. Please look at the time stamp on the story to see when it was last updated.
Police are seeking a hit-and-run driver who fatally struck an 18-year-old man in Westlake over the weekend, officials said.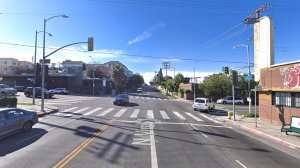 The collision took place about 1:05 a.m. Saturday along Virgil Avenue at First Street, the Los Angeles Police Department said in a written statement.
"An unidentified vehicle traveling southbound on Virgil Avenue collided with a pedestrian running southbound Virgil Avenue, outside of the marked crosswalk," according to the statement.
The driver continued on without stopping to help, as required by the law. No description of the hit-and-run vehicle was available.
Los Angeles County Fire Department paramedics pronounced the pedestrian dead at the scene.
He was identified as Andy Olivera Monoscano, 18, of Los Angeles, Los Angeles County Department of Medical Examiner-Coroner Investigator Jerry McKibben said.
The city of Los Angeles offers a standing reward of up to $50,000 for information that leads to the identification, arrest and conviction of drivers involved in deadly hit-and-run collisions.
The victim's loved ones have also created a GoFundMe campaign to help raise funds for his memorial.
Anyone with information is urged to contact the LAPD at 877-527-3247. Tips may also be submitted anonymously online to L.A. Regional Crime Stoppers at 800-222-8477.