This is an archived article and the information in the article may be outdated. Please look at the time stamp on the story to see when it was last updated.
A man was shot in the chest with a pellet gun during a home-invasion robbery in Venice early Tuesday morning.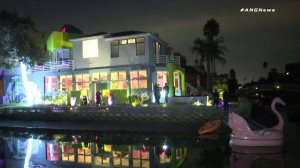 Police received a call reporting the shooting in the 2400 block of Grand Canal just before 3 a.m., Los Angeles Police Department detective Meghan Aguilar said.
Two people inside the home were initially startled after hearing a noise, Aguilar said.
One of them looked outside and saw someone, who then pointed a pellet gun and shot him in the chest.
"I still can't believe it happened … I'm glad it was a pellet gun and not a normal gun. Especially where it hit me," Mark Woodcock said.
A second intruder, who had gained access through a broken window, managed to flee after taking some cash from the home, Aguilar said.
Both of the intruders were still at large, however, investigators did recover the pellet gun at the scene,Aguilar said.
KTLA's Jennifer Thang contributed to this report.