This is an archived article and the information in the article may be outdated. Please look at the time stamp on the story to see when it was last updated.
Residents in Venice were cleaning up early Tuesday after a watery mess that was caused by a water main that broke just blocks away from the beach, spilling some 100,000 gallons of water into the streets, according to the Los Angeles Department of Water and Power.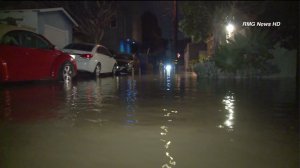 At least a dozen homes in the area were affected by the water main break, which occurred in the 200 block of Carroll Canal (map) just after 9 p.m. on Monday.
"I saw that mud coming and, you know, I said 'Oh, here we go.' And I just...called DWP," resident Martin Sharer said.
DWP shut off the main off at about 11 p.m., and a handful of homes and apartments in the area had their water service disrupted as a result of the break.
Their service was restored at about 7:30 a.m. on Tuesday, according to DWP.
Some of the garages on the street were flooded, video from the scene showed.
DWP crews were able to repair the line by replacing a 3-foot pipe. They remained on the scene as of 9 a.m. to help clean up that water that continued to flood the streets.
The incident occurred in the same block where a water main break flooded several streets more than two years ago, damaging three garages and a car, the Los Angeles Times reported at the time.
"Drainage is a huge problem here, there's always standing water after it rains, for weeks," said Seymour Applebaum, a resident in the area. "My sense is the city thinks is somehow the neighborhood's responsibility, not theirs, in terms of paving it and resetting the drains."
The extent of the damage from the latest water main break was not immediately known.