This is an archived article and the information in the article may be outdated. Please look at the time stamp on the story to see when it was last updated.
A 31-year-old transient who bit a Venice cafe owner's finger off in front of the restaurant was identified Monday, when business owners planned to meet to discuss security in the beachside community.
Jonhthan Lemmons was being held on a little over $1 million bail at the Twin Towers Correctional Facility in downtown Los Angeles, county inmate records showed.
Lemmons was arrested on suspicion of aggravated mayhem after a Saturday morning attack in front of the Cow's End, a longtime Venice institution on Washington Boulevard, not far from the Venice boardwalk, police with the LAPD Pacific Division said.
Cow's End owner Clabe Hartley said he asked Lemmons to leave because the man was getting aggressive with customers, asking for money. Lemmons started punching and scratching Hartley, who was only able to fight back with one arm because of injuries due to a recent motorcycle crash.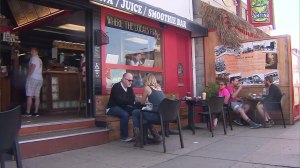 "He said, 'I will f--- you up, man … I'm going to kill you,'" Hartley recalled Monday.
Several cafe patrons came to Hartley's aid and were finally able to help restrain the transient. Hartley, meanwhile, said he didn't even realize the tip of his finger had been bitten off during the fight.
"I looked at my hand, blood was pouring out," Hartley said. "I said, 'My God, he bit my finger off.'"
Lemmons volunteered to responding Los Angeles Police Department officers that he had purposefully bit Hartley's finger off, according to the cafe owners.
Hartley said he has owned the building for 46 years, and the Cow's End for 26 years. His finger could not be reattached by doctors.
Lemons was expected to appear Tuesday at the Airport Courthouse.
Dozens of concerned residents were turned away from what they thought was a meeting for business owners to discuss violence in their community.
Organizers later said the meeting was only for the owners of businesses on Washington Boulevard.
More video: