This is an archived article and the information in the article may be outdated. Please look at the time stamp on the story to see when it was last updated.
A Venice woman is determined to save a treehouse on her property after receiving a notice from city officials ordering her to take it down.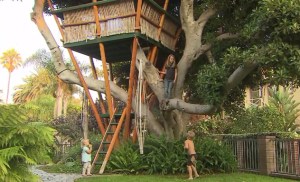 The remarkable structure was built a decade ago by Sid Erickson, a Vietnam veteran who passed away in 2010.
"He was only 65. … That was a huge loss," said his wife, Eileen, who now finds herself embroiled in a fight with City Hall whose outcome is anything but certain. "Every time something else is taken away, that was part of him, it's another loss."
The treehouse serves as the favorite hangout spot of his grandchildren and neighborhood kids. But on May 22, Eileen Erickson received a two-page letter from the Department of Building and Safety ordering her to "demolish" it. She faces substantial fines and possible imprisonment if she fails to comply with the instructions.
She has since received support from some 450 people who have signed a petition in favor of preserving the treehouse, and City Councilman Mike Bonin's staff offered to help her "navigate through the system" that identified 17 related code violations.
As for how city officials became aware of the treehouse in the first place, Erickson believes she was targeted by proponents of McMansions in Venice after she spoke out against them.