This is an archived article and the information in the article may be outdated. Please look at the time stamp on the story to see when it was last updated.
Federal aviation investigators were at the scene Wednesday night of the fiery crash of a fighter jet during a training mission near Point Mugu Naval Air Station that killed the pilot.
The jet came down around 5:13 p.m. in an agricultural field near Hueneme Road at Highway 1, according to the Ventura County Fire Department.
"I just saw this jet going down really fast … and all I saw was a big cloud of smoke," said witness Brian Rivera.
The plane was identified as a Hawker Hunter aircraft that flies out of Point Mugu, according to Kimberly Gearhart from Naval Base Ventura County.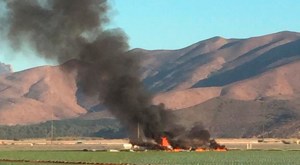 The aircraft is a one person jet that usually flies in a test range around the base, but crashed outside that range somewhere along Highway 1, Gearhart said.
"This aircraft was returning home … was on it's final approach to land and something went wrong," she said.
Ventura County fire officials initially reported one fatality at the scene.
The victim was later confirmed to be the pilot, according to Gearhart.
#Aircraft Down 1 confirmed DOA confirmed Hunter Hawker unknown if pilot ejected or if chute was part of debris field

— VCFD PIO (@VCFD_PIO) October 30, 2014
The tail number on the jet showed the aircraft was registered to military contractor, Hunter Aviation International, Inc.
However company officials said Wednesday that the aircraft was recently sold to a company called Lortie and was being operated under a contract with Airborne Tactical Advantage Company (ATAC).
The pilot was a civilian who worked for the contractor, according to Gearhart.
The jet, formerly used by the British Royal Air Service, is primarily utilized by the Navy in an adversarial role during training missions.
"Basically, they fly the bad guy during training missions," Gearhart said.
More Video: