This is an archived article and the information in the article may be outdated. Please look at the time stamp on the story to see when it was last updated.
A Ventura couple suspected of identity theft involving more than 100 victims were arrested after detectives spotted one of them driving a brand new muscle car, authorities said Tuesday.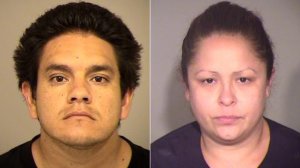 Darian Loehner, 36, and Cesar Herrera, 31, were arrested after an investigation that began May 25, the Ventura County Sheriff's Department announced. They were arrested Aug. 3, jail records indicate.
The case started when an Ojai business found its checks were being replicated and cashed; detectives found the crimes began in March but weren't discovered for several months.
Investigators suspected Loehner and Herrera and began watching their Ventura home. At one point, detectives saw Herrera arrive home in a brand-new 2017 Dodge Challenger Hellcat, which the Sheriff's Department described as being valued at $90,963.
The vehicle had been purchased earlier that week with a fraudulent cashier's check for $62,000, a sheriff's news release stated.
Investigators obtained a search warrant for the couple's home, where they found identification and Social Security cards, passports, credit cards and property linked to 117 victims. Printers and paper used to make checks were also found, the Sheriff's Department said. The documents are believed to have been taken from residents' mailboxes in Ventura County.
Loehner and Herrera remain in jail on $250,000 bail each. They're due in court Wednesday.
Jail records indicate they are being held on suspicion of multiple felony identity theft charges, felony forgery, and misdemeanor receiving stolen property and destroying or concealing evidence. Herrera was additionally held on suspicion of unlawful driving or taking of a vehicle and misdemeanor possession or purchase of a stun gun by a felon.
A couple with the same names were treated to a free Christmas dinner at a holiday event for homeless families at a Ventura pizza parlor last December. The couple had two children with them at the event, which was covered by the VC Reporter.