This is an archived article and the information in the article may be outdated. Please look at the time stamp on the story to see when it was last updated.
Arsen Roberts observed what was left of his Ventura home Wednesday, and it was reduced to rubble.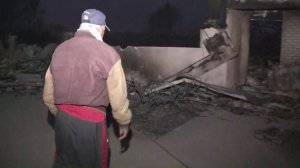 "Everything is burned down to the ground," the 74-year-old told KTLA.
His home along Skycrest Court since 1961 was gone, and so were his cats, his only companions since his wife died a few years ago.
He had so little time to escape the wind-whipped Thomas Fire that he couldn't save his cats, or even get his wallet.
"I don't know what I'm going to do right now, I can't think right," Roberts said. "It hurts."
He doesn't have a cellphone and he has been sleeping in the back of his truck.
As if he was planning to rebuild, he said "I suppose."
Authorities last estimated that 150 structures have been destroyed in the destructive blaze, but the number is expected to increase.