This is an archived article and the information in the article may be outdated. Please look at the time stamp on the story to see when it was last updated.
A damaged Ventura Pier was closed Friday morning as high surf pounded coastal areas and flooded neighborhood streets amid what forecasters called the "largest surf event of the season."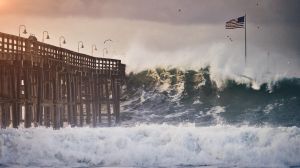 Patrol officers responded to reports that high surf was crashing into the pier and had possibly caused damage to the structure at about 7 a.m., the Ventura Police Department stated in a news release.
The officers confirmed the pier had been damaged and asked a few people to leave the deck before closing it to the public at about 7:10 a.m.
The pier was still standing but aerial video from Sky5 just after 8 a.m. showed some of the wooden posts had broken loose.
The structure was expected to remain closed indefinitely while conditions remained dangerous and the damage to the pier was being assessed, the Police Department stated.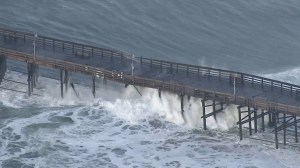 Video also showed waves crashing over the walls of homes along the coast and flooding the neighborhood streets.
Harbor Boulevard between Sanjon Road and California Street had to be closed due to flooding, the Ventura County Star reported.
High surf advisories for much of the Southern California coast were in effect Friday morning through Saturday, according to the National Weather Service's Oxnard office, which called the phenomenon the "largest surf event of the season so far."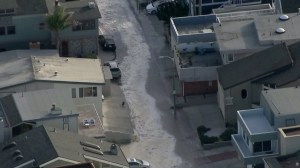 Beaches in Los Angeles and Ventura counties were expected to see surf heights between 8 and 12 feet, with local sets up to 15 feet. West- and northwest-facing beaches were expected to see the highest surf.
Orange County was also under a high surf advisory.
Dangerous rip currents, sneaker waves, and minor coastal flooding and beach erosion were possible.
The weather services specifically warned that coastal structures such as piers were susceptible to damage.
Inexperienced swimmers were warned to stay out of the water.
Surf was expected to decrease Saturday into Sunday.
{High Surf Advisory} via @NWSLosAngeles Sizable surf will bring an increased risk of #RipCurrents to our beaches. pic.twitter.com/rueXHSO1Pc

— LACoFD Lifeguards (@LACoLifeguards) December 11, 2015