This is an archived article and the information in the article may be outdated. Please look at the time stamp on the story to see when it was last updated.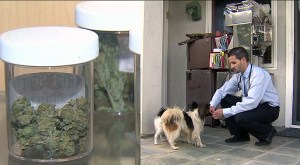 CHATSWORTH, Calif. (KTLA) — A growing number of veterinarians across the U.S. support the idea of using medical marijuana to treat pets in pain.
Local veterinarian Doug Kramer, who runs the Vet Guru animal center in Chatsworth, said the active ingredient in pot, THC, could be the key to helping Fido feel better.
Kramer, 36, said a friend told him she used marijuana to treat her dog when other traditional medications failed.
So when his own dog, a Siberian husky, was diagnosed with terminal cancer Kramer felt he had nothing to lose.
Marijuana didn't cure Nikita, but she seemed to feel less pain during her final days, Kramer said.
But uncontrolled use of the drug has some veterinarians concerned about the possibility of toxicity.
"Those veterinarians are seeing the worst of the worst overdoses, all they're seeing is the toxicity, all they're seeing is the negative impact of giving too much," Kramer said.
Kramer said he hopes an open discussion about the benefits of marijuana in veterinary medicine will lead to more research on the issue.