This is an archived article and the information in the article may be outdated. Please look at the time stamp on the story to see when it was last updated.
In the week before Memorial Day, Venice residents noticed the frustratingly familiar sight of graffiti.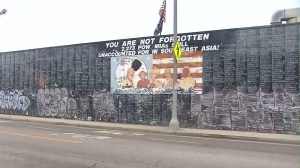 But this time, the location was especially egregious: Vandals scrawled big, white letters over part of a mural memorializing Vietnam War veterans.
"It's sad and shocking," said Venice Chamber of Commerce Vice President George Francisco. "Such ignorance and animosity."
The damage, he said, feels especially personal -- his father was a Green Beret in Vietnam and did two combat tours.
Click here to read the full story on LATimes.com.