This is an archived article and the information in the article may be outdated. Please look at the time stamp on the story to see when it was last updated.
A man in San Bernardino had his car and cellphone stolen by after meeting up with a teen girl he knew from Instagram, authorities said Thursday.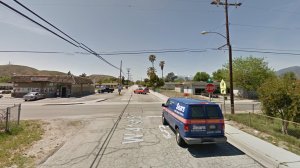 The victim didn't regain possession of his vehicle until after it was involved in a car crash, the San Bernardino County Sheriff's Department said in a statement.
The incident occurred just before noon Wednesday near the intersection of F and 41st streets, where the victim and the 17-year-old girl went into Seventh Heaven Market to purchase a drink, according to the sheriff's report
When the two left the store and walked toward the man's vehicle, they were approached by an 18-year-old woman and 17-year-old boy, officials said.
The two began punching the victim numerous times. He attempted to flee, but all three assailants chased him and he fell to the ground.
The three continued to punch and kick him as they took his car keys and phone, according to sheriff's officials.
The three then allegedly fled in his car.
Later on Wednesday, the same vehicle was involved in a car crash in Rialto, authorities said.
At that point, all three of the alleged assailants were arrested on suspicion of carjacking, robbery and assault with a deadly weapon.
One of the suspects has been identified as Adelanto resident Diamond Lucious, 18.
The other two's full identities have been withheld due to their age, but the Instagram acquaintance was a 17-year-old girl from San Bernardino while the third member of the group was a 17-year-old boy from Rialto.
Lucious was being held on $100,000, while the other two were booked into juvenile hall on no-bail warrants.