This is an archived article and the information in the article may be outdated. Please look at the time stamp on the story to see when it was last updated.
A driver was arrested on suspicion of murder after fatally hitting a man who was out for a morning jog in Walnut on Monday, according to the Los Angeles County Sheriff's Department.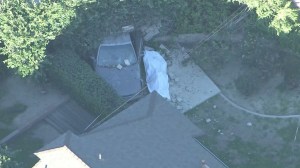 The fatal collision occurred in the area of La Puente Road and Citadel Drive shortly before 6 a.m., the Sheriff's Department said in a news release.
The victim was jogging eastbound in the bike lane when he was hit by a 1989 Toyota Camry from behind, the release stated.
He was carried several yards on the hood of the car, which subsequently crashed into the brick wall of a residence in the 20200 block of Barnard Avenue.
"It sounded like a transformer blew up — just a loud boom," said resident John Pratt, who described area bike lanes as popular with walkers and joggers.
The homeowner called 911 to report that a vehicle had collided with the wall, the release stated. The driver was very shaken, the homeowner told KTLA.
When deputies arrived at the location they found the jogger, who was pronounced dead at the scene. He was later identified by the Sheriff's Department as 59-year-old Chi Shao of Walnut.
Aerial video over the crash site showed the victim's body covered in a white sheet, lying in the backyard of a residence, next to the vehicle.
The driver was not injured. Authorities did not confirm that he had been arrested until late Monday afternoon. He was subsequently identified in a Sheriff's Department statement as Haissam Massalkhy, 36, of West Covina. Officials initially gave the suspect's first name as Haissan.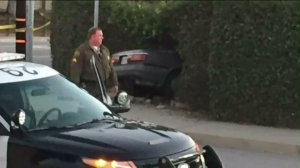 Authorities initially said it appeared the driver intentionally ran over the victim, saying the motorist was arrested on suspicion of murder. Then a homicide lieutenant said the man had only been detained for questioning, and investigators were trying to determine if the crash was intentional.
By late afternoon, a sheriff's spokesperson said the driver had been arrested on suspicion of vehicular manslaughter. The driver was at a hospital, awaiting medical clearance to be booked at the Walnut Sheriff's Station, the spokesperson said.
Detectives at the time were waiting to interview the suspect. A motive for the killing was unknown.
On Monday evening, a sheriff's news release announced that Massalkhy was booked on suspicion of murder and was being held in lieu of $1,000,000 bail.
The case will be presented to the Los Angeles County District Attorney's Office for filing considerations, the statement said.
KTLA's Jennifer Thang and John A. Moreno contributed to this story.