This is an archived article and the information in the article may be outdated. Please look at the time stamp on the story to see when it was last updated.
The friends and relatives of three people killed in a fiery 5 Freeway crash caused by two street racers gathered on Wednesday to beg the remaining driver to surrender, and authorities announced a $35,000 reward in the case.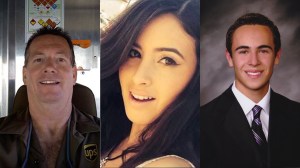 Michelle Littlefield, 19; Brian Lewandowski, 18; and Scott Treadway, 52; were killed in the chain-reaction crash triggered by two racing drivers on Feb. 27 in Commerce.
"Those who believe that driving at high speeds is something to take pride in commit an irresponsible and selfish act. This unfathomable pain could be avoided," said Gigi Littlefield, Michelle's mother, at a news conference Wednesday.
Two drivers going over 100 mph raced in and out freeway traffic coming from downtown Los Angeles through the East Los Angeles interchange, California Highway Patrol Capt. Paul Medeiros said Wednesday.
One lost control, struck an 18-wheel UPS truck — driven by Treadway — that then went airborne and through the center divider, partially overturning onto an oncoming car in which Littlefield and Lewandowski were traveling.
The teens worked for Six Flags Magic Mountain and were on their way home from Disneyland when they were killed. Two of their friends and coworkers, Alfonso Morillo and Anthony Miramontes, were also hospitalized.
The other injured victims were identified in a Los Angeles County Sheriff's Department news release as Thomas Won and Nicole Ruiz.
"Some look upon street racing as entertainment. It is not — it is deadly," said Sheriff Jim McDonnell. "It could be anybody."
Dealio Lockhart, a 35-year-old Whittier resident, was arrested at the scene of the crash and later charged with three counts of murder. But the person he was racing has not been located.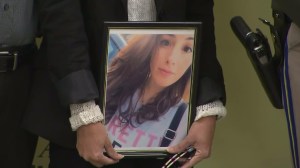 The driver who got away was traveling in a late-model black or dark blue Dodge Charger with tinted windows, the Sheriff's Department stated. It may have custom rims, Medeiros said.
Treadway's son begged for the other driver to turn himself or herself in.
"All I ask is for you to come forward and take responsibility for your actions on the night I watched my father's body burning in a fiery heap of twisted metal. That vision is forever burned into my memory," Jason Treadway said. "Please come forward and let our families begin the healing process."
The commander of the sheriff's homicide bureau spoke on behalf of Lewandowski's family. The victim's father is a homicide lieutenant.
The crash left the freeway closed for more than a day as investigators worked to repair the roadway and clean up destroyed vehicles littered across the pavement.
There is video of the street race, but because of the time of night it has not been very helpful, sheriff's Capt. Steve Katz said. Drivers who witnessed the racers were asked to contact authorities.
It doesn't appear that the racing drivers knew each other, Katz said.
The Los Angeles County Board of Supervisors, Treadway's union — Teamsters Local 396, the United Parcel Service, and Six Flags Entertainment Corp. all offered funds leading to the collective amount of $35,000.
A separate, additional $1,000 was offered by "Crime Stoppers."
Anyone with information about the deadly crash was asked to contact the Sheriff's Department's Homicide Bureau Detectives Marc Boskovich or Louie Aguilera at 323-890-5500, or East Los Angeles California Highway Patrol Investigator Frank Fonseca at 800-835-5247.
Tippers wishing to remain anonymous can call Crime Stoppers at 800-222-8477, text the letters TIPLA plus the tip to CRIMES (274637), or visit the website http://lacrimestoppers.org.
Correction: The story initially misreported which vehicle is being sought. It has since been updated with the correct description.
Press Conference w/ @LASDHQ, & families of victims of street racing fatal collision. Help the families find closure. pic.twitter.com/9r9SV1WwYc

— CHP PIO – LA County (@CHPsouthern) March 23, 2016