This is an archived article and the information in the article may be outdated. Please look at the time stamp on the story to see when it was last updated.
Two people have been identified after they were killed when a witness says they tried to give aid to a driver who had been in a fiery wreck on the 170 Freeway in North Hollywood.
The two men were among four who pulled over on the side of the roadway, near the Sherman Way off-ramp of the northbound 170, to help the driver when they were struck by another vehicle Thursday afternoon, witness Tracy Young told KTLA.
Lavante Cox, 22, was killed at the scene, a Los Angeles County coroner's office official confirmed Friday. A GoFundMe page trying to raise money for Cox's funeral expenses spelled his first name as LaVonte.
Patrick Josaphat, 21, of Valley Village, was also killed, a department official said Saturday. The Los Angeles Daily News reported the second man died Friday.
A third person was injured during the crash and hospitalized. They were initially listed in critical condition, the Daily News also reported.
The fatal incident occurred after the California Highway Patrol reported there was a hit-and-run crash with injuries, according to department logs around noon Thursday.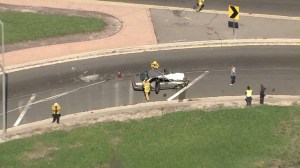 Minutes later, another log entry reported a vehicle fire.
Officials could not immediately confirm if the incidents were related.
The witness told KTLA four people attempted to help the driver in the fiery crash when a vehicle slammed into them.
"It happened so quickly," Young said, choking back tears. "I don't know if cars clipped, and one got sent off the freeway, but the guys were just obliterated. The car just went right through."