This is an archived article and the information in the article may be outdated. Please look at the time stamp on the story to see when it was last updated.
A candlelight vigil was held in Burbank on Sunday night for the victims of a fiery car crash that left five people dead and one woman hospitalized.
The lone survivor of the crash was identified as 18-year-old Savannah Underwood, according to family and friends.
Underwood was being treated Sunday at Los Angeles County LAC+USC Medical Center for non-life threatening injuries, including a broken leg, according to Burbank police.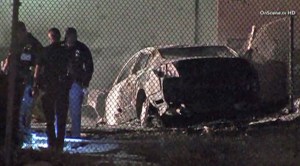 Five others inside the vehicle were killed when the four door Nissan slammed into a concrete pillar around 4:13 a.m. Saturday,  according to Burbank police.
The incident happened on N. San Fernando Blvd. near an off-ramp of the 5 Freeway.
The car burst into flames and was fully engulfed when officers arrived.
"This was a tough one. I've been here 28 years and the five fatalities is pretty rough," Burbank Police Sgt. Darin Ryburn said during a news conference.
Speed was a factor in the wreck, Ryburn said.
The five people who died were identified as Sugey Cuevas, Malak Hariri, Sameer Nevarez, Stephen Stoll and Sebastian Forero, family and friends told KTLA 5. The victims, all in their late teens and early twenties, were graduates of two Burbank high schools.
"The Lord decided he needed your wings early in life … but we will miss you here," read a note written to Stoll and placed at a makeshift memorial.
Hariri, who had been attending college and working at a Best Buy store, "was a really enthusiastic person. She loved everything she does, every single day," said her cousin, Ahmed Hariri. "She had a whole life ahead of her."
Police were awaiting the results of toxicology tests to determine if alcohol or drugs contributed to the crash.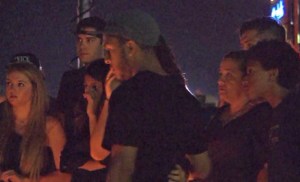 Officials initially said Underwood was ejected from the car, but later retracted the statement to say she crawled out of the wreckage.
Family and friends of the victims had also held an emotional vigil near the crash scene on Saturday evening.
Several people at the vigil told KTLA 5 the victims had just left a party when the crash occurred.
A memorial fund has been set up to pay for funeral services for Sugey Cuevas.
www.GofundMe.com/4kdnt4