This is an archived article and the information in the article may be outdated. Please look at the time stamp on the story to see when it was last updated.
A video that appears to show a federal law enforcement officer grabbing a woman's cellphone and then slamming it to the ground in South Gate over the weekend was under investigation, the U.S. Marshals Service confirmed Tuesday.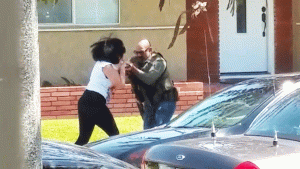 In the video, which was posted to YouTube on Sunday, a woman appeared to be using her cellphone to record a group of men wearing "Police" vests as they were talking in front of a home.
The woman, Beatriz Paez, said she felt "compelled" to record the incident because "it definitely looked unsafe." She told KTLA she also urged those around her to start recording.
Paez was standing just a few feet from the men and appeared to be saying something to them.
She was saying, "I do not feel safe with you" and "You are making me feel unsafe and I have a right to be here" and "You need to stay away from me, I don't feel safe with you closer to me," among other statements, the Los Angeles Times reported.
"What I saw was eight to 10 people face down ... on their stomach with their hands behind their back," Paez said. "And everyone was held at gunpoint to their head."
One of the uniformed men then walks toward the Paez and is seen lunging at her once he is close enough to grab the object from her hands.
"He absolutely said nothing to me," Paez said. " He lunged at me ... he threw my phone to the ground."
He then appeared to kick or stomp on it.
"I thought he was going to beat me," Paez told KTLA.
The uniformed man then walks away from her to join the other men in front of the home.
Paez picks up something from the ground and is then heard saying, "Did you record that?" to the person shooting the incident from across the street.
The woman across the street, who wished to remain anonymous, confirmed Paez' account of the incident.
The witness who recorded the encounter told KTLA that a "very big, tall Marshall with a big gun approached" Paez.
"She tried to run away, but he grabbed her phone, threw it to the ground and kicked it," the witness said.
Paez said she felt her constitutional rights were violated and she planned to file a lawsuit.
"The fact that my rights were violated to film law enforcement was wrong," she said.
On Tuesday, the Marshals Service issued a statement confirming the incident was under investigation.
"The U.S. Marshals Service is aware of video footage of an incident that took place Sunday in Los Angeles County involving a Deputy U.S. Marshal. The agency is currently reviewing the incident," the statement read.
The statement did not explain why federal agents were in the area.
More Video:
[facebook url="https://www.facebook.com/ktla5/posts/10153287067829614"]