This is an archived article and the information in the article may be outdated. Please look at the time stamp on the story to see when it was last updated.
A video recorded just hours before Monrovia kidnapping suspect Robert Camou was taken into custody appears to show him at a downtown Los Angeles bar rapping about killing and burying his girlfriend.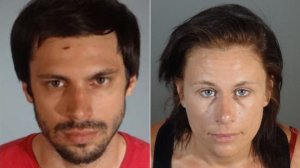 Authorities named the 27-year-old Camou a suspect in Amanda Custer's disappearance on Monday and asked the public for help searching for them. On Wednesday, they asked members of the Mount Baldy community to "remain vigilant" in the continued search for Custer. A video obtained exclusively by KTLA and recorded just hours before Camou's car was located in downtown Los Angeles appears to show the suspect rapping at a local bar. "I killed my b—- and buried that b—- in the f—— dirt," the man in the video raps. He then mutters a few words about the police looking for him and walks out of the camera's view. Authorities are reviewing the video and trying to secure an original file to make sure it has not been edited, Los Angeles County Sheriff's Department Deputy Trina Schrader told the
Los Angeles Times
. In addition, officials are asking anyone who was at the bar when the video was recorded, or saw Camou, to call the homicide bureau. Authorities
arrested Camou Tuesday morning
near the intersection of South Hill and Third streets following a five-hour standoff in which he remained in the back seat of his Toyota Prius.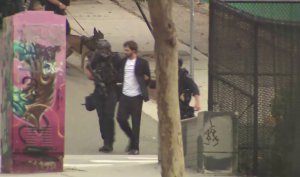 Camou finally exited the vehicle after a small amount of tear gas was shot into the car, Los Angeles Police Department Lt. Chris Ramirez said. Investigators
believe Custer was abducted Monday
from a home on the 600 block of Vaquero Road in Monrovia. A witness reported seeing Camou placing her limp body into the cargo hatch of his Prius. Investigators also said they found blood at the scene. Camou had been scheduled to appear in court the day Custer went missing but never showed up. He had previously been charged with four felony counts, including burglary and assault and battery, according to court documents filed May 29. During a bench warrant hearing Wednesday, Camou said he wanted to represent himself during court proceedings. The judge then scheduled another hearing on the matter for Aug. 1. The documents detail a case involving a victim identified as "Amanda C," which occurred on April 22. Custer was described in a Sheriff's Department
news release
as a 31-year-old white female who stands 5 feet, 8 inches tall and weighs about 140 pounds. She has brown hair and green eyes. A candlelight vigil for Custer is planned for 8 p.m. Wednesday at Monrovia Library Park. Anyone with further information about the case was asked to call the Sheriff's Department at 323-890-5500. Those who prefer to remain anonymous can contact Crime Stoppers at 800-222-8477.