This is an archived article and the information in the article may be outdated. Please look at the time stamp on the story to see when it was last updated.
YouTube videos showing a boy and a young woman riding in the back of a pickup truck filled with Orbeez led to two people being accused of child endangerment, Corona Police said Thursday.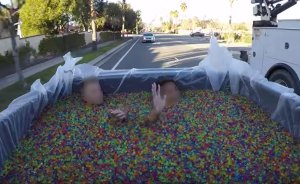 Officials received information about the videos that showed "dangerous driving behavior involving children," police said in a news release.
The videos show a family filling the back of the truck with water and the gel-like beads that absorb water and swell at least 100 times their volume.
A boy and the woman are later seen in the back of the truck without any type of safety equipment while the driver is traveling in heavy traffic, police said.
In one of the videos, the pair swish near the edge of the truck while the driver is in a cul-de-sac. That video has been viewed more than 807,000 times.
The family then allegedly dumped the material out on Rimpau Avenue near Erick Street, causing dangerous roadway conditions, officials said.
Additionally, the Orbeez spilled into the sewer drains and the Department of Water and Power responded to the area to clean up.
After reviewing the videos, Corona Police cited Holly Piazza, 45, apparently the boy's mother, and Brian Chase, 37, for child endangerment of an 8-year-old boy.
Both were also cited for illegally dumping materials on the roadways and were ordered to pay for the cost of road cleanup.
The videos were part of several posted to a YouTube channel, which has more than 1 million subscribers that feature stunts with the boy.