This is an archived article and the information in the article may be outdated. Please look at the time stamp on the story to see when it was last updated.
Disturbing cellphone video which captured a violent confrontation between a teenage boy and a transient at a popular skate park in Riverside has prompted a police investigation after it was posted recently on Facebook.
In the video, the homeless can be seen talking to a group of teens on their BMX bikes at Hunt Park.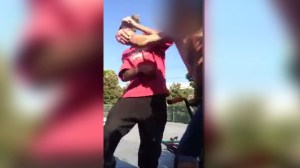 An argument ensues, and the teens repeatedly tell the man to leave him alone.  He then turns to walk away, but returns after being taunted by the teens.
A 16-year-old then jumps up and punches the man in the jaw, knocking him out. He was then observed lying on the ground, bleeding from his head, the video showed.
"I watched the video a couple of weeks later and was like, 'When do I get up," the man, named Shane, told KTLA on Monday.
Shane said the dispute stemmed from a misunderstanding, but declined to elaborate further.
Some witnesses claimed the argument started after the man began talking about drugs. Teens who skate and hang out by the park said they've been harassed by drug users in the area before.
"There's frequently police contact with people that are out here using drugs, or contemplating using drugs in the bathroom... and bad situations that a lot of kids really don't need to deal with it," said Richie Roberts, who witnessed the altercation.
Despite being knocked unconscious by the teen, Shane said he would prefer charges not to be filed in the case.
"I don't want no harm to come to him. I don't want him to be penalized for it, you know?" he said.
No charges have been filed in connection with the incident.