This is an archived article and the information in the article may be outdated. Please look at the time stamp on the story to see when it was last updated.
Police released video footage and reached out to the public for help Thursday in tracking down the driver of an SUV who struck and critically injured a woman visiting Los Angeles from Colombia as a tourist over the weekend, authorities said.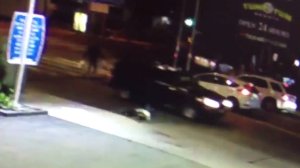 The 35-year-old woman, Erika, remains hospitalized in critical condition following the collision, which took place about 6:40 p.m. Sunday at Whittier Boulevard and Lorena Street, according to the Los Angeles Police Department. The victim and her boyfriend were crossing Whittier Boulevard in a marked crosswalk when Erika was struck by an SUV that was making a left turn from Lorena Street onto Whittier Boulevard, police said. "I was walking in the crosswalk, and I actually saw him coming and I raised my hand to say: stop – and he didn't stop," the boyfriend, Cesar, said. "I managed to get away, but unfortunately my girlfriend did not manage to get away, and she was struck." The couple preferred their last names not be used. Erika was thrown about 20 feet by the force of the impact, Cesar said. Paramedics arrived on scene minutes later and transported her to the L.A. County+USC Medical Center, where she remained in critical condition in the intensive care unit Thursday night. Cesar said her X-rays show a skull fracture and she has bleeding on and around her brain, so Erika will be in ICU a little while longer. The couple was supposed to return to Colombia Thursday. LAPD Detective Moses Castillo said the perpetrator exhibited "total disregard for human life." "Didn't even stop, didn't put on brakes – nothing," he told KTLA. "Just kept on going." Witnesses told police that the SUV involved was chased by good Samaritan up Lorena Street, but it got away on the eastbound 60 Freeway. "This happened so fast that we're not even sure of the make and model of the vehicle," Castillo said. However, investigators believe the dark-colored SUV could possibly be a Ford Explorer. Local resident Henry Moraga said he wasn't surprised that someone was struck at intersection involved. "People get run over here, it's almost very common," he said. "You could get runned over, bumped or something like that." A $25,000 reward is attached to information leading to an arrest in the case. Anyone with information was asked to contact the LAPD's Central Traffic Division at 213-833-3713. Tips may also be submitted anonymously to
L.A. Regional Crime Stoppers
at 800-222-8477.
KTLA's Erika Martin contributed to this report.