This is an archived article and the information in the article may be outdated. Please look at the time stamp on the story to see when it was last updated.
A portion of one of two stabbings that Covina police said were racially motivated was shown in surveillance video released Monday.
Both stabbings occurred about 7:30 p.m. Saturday at a shopping center in the 100 block of North Azusa Avenue, where a Latino man stabbed two black men who were not associated with one another, according to police.
A 19-year-old La Puente man, Louis Vasquez, described by police as an "admitted gang member," was taken into custody in the stabbings.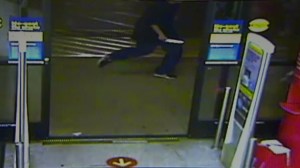 Vasquez allegedly stabbed an 18-year-old who was working at the center, collecting shopping carts. That victim ran into the store where he worked to get help, and the attacker continued on, stabbing the second man, police said.
Vasquez yelled a racial epithet while chasing after one victim in one of the assaults, Covina Police Department Sgt. Gregg Peterson said.
"Based on the fact (that) the racial slur was said, it's our belief it was hate-motivated," Peterson said.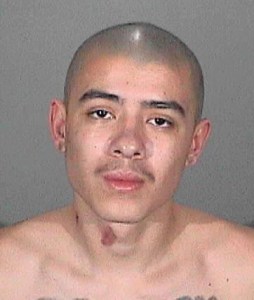 The video showed the second victim, a 27-year-old, walking in front of a store with the attacker chasing after him, apparently holding a weapon. The victim tripped as he ran and the attacker jumped on top of him, slashing at him with a "large kitchen knife," Peterson said.
The victim kicked at the attacker, disarming him, Peterson said. Then the man fled.
The video showed the second victim returning to the automatic doors in front of the store, his shirt soaked in blood.
He had been stabbed twice in the shoulder, Peterson said.
Vasquez was arrested about 1 1/2 miles away, in the back yard of a home in the city, police said.
He was booked on suspicion of attempted murder with a gang enhancement and committing a hate crime, Peterson said.
His bail was set at $500,000.
One victim remained hospitalized Monday, authorities said.
KTLA's Kennedy Ryan contributed to this story.
More video: