This is an archived article and the information in the article may be outdated. Please look at the time stamp on the story to see when it was last updated.
Glendale police on Thursday released video of a brazen robbery of an Apple Store at the Americana at Brand.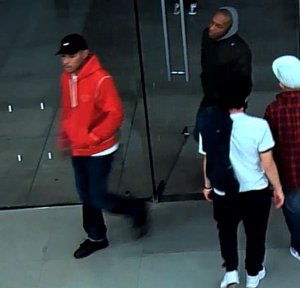 The video shows two men walk into the store and steal display iPhones in full view of customers, and then run out.
The robbery occurred at 8:40 p.m. Monday, Jan. 30, according to a spokeswoman for the Glendale Police Department.
The men stole 14 iPhones, ripping them from their security tethers and running out of the store at the upscale outdoor mall, police said.
The loss was valued at $14,424.
No one was hurt, but the video shows about a half-dozen witnesses, including an adult woman and young girl. The older woman hugs the child to her as the men grab the phones.
The thieves are both described as African-American men between 20 and 25 years old. One was 5 feet 10 inches to 6 feet tall with a thin build. The other was 5 feet 7 inches tall to 5 feet 9 inches tall with a thick build and shaved head.
One wore a hat and the other a hoodie during the theft, but their faces are visible.
Anyone with information is asked to call the Glendale Police Department at 818-548-4911. Anonymous callers may contact Crime Stoppers, which police said was offering a reward, at 800-222-8477.
Police asked KTLA to blur the video to blur the faces of the witnesses out of concern for their safety.