This is an archived article and the information in the article may be outdated. Please look at the time stamp on the story to see when it was last updated.
Video shows a driver being pulled from his vehicle by a group of bike riders after he apparently bumped one of them as they traveled through an intersection in Koreatown Thursday night.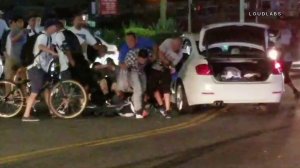 The incident happened as the group of cyclists were traveling through an intersection on West 6th Street near Hobart Boulevard, Los Angeles Police Department Sgt. Dimaurowith said.
The light turned red as the group was crossing so a few riders stopped traffic to let the rest get through the intersection, Dimaurowith said.
A driver that had a green light didn't want to wait and began inching toward the cyclists, witness Brandon Pak said.
That's when one of the bike riders confronted the driver and began hanging onto the car door, Pak said.
The driver tried to shake him off by accelerating and hit one of the bike riders, Pak said.
The "light bump" did not injure the bike rider but others in the group were upset and attacked the driver, Dimaurowith said.
Pak described what happened next.
"All the guys on the bikes just jumped him, pulled him out of the car," Pak said.
The bike riders didn't beat the man up but pinned him to the ground so he couldn't run away, Pak said.
Video showed the driver was later detained by police but no arrests were made, Dimaurowith said.
The group of bikers, which Pak estimated at about 50 people, also had children with them.
"You should just let them go through," Pak said.