This is an archived article and the information in the article may be outdated. Please look at the time stamp on the story to see when it was last updated.
Water gushed onto a portion of Western Avenue in South L.A. and flooded the street after a water main broke in the area Wednesday morning, according to the Los Angeles Department of Water and Power.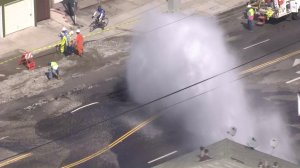 The Los Angeles Fire Department first responded to the 9800 block of South Western Avenue shortly after 8:45 a.m. upon receiving a report of a flooding incident, according to LAFD spokeswoman Margaret Stewart. The location is in the Gramercy Park neighborhood of South L.A.
Authorities were initially unsure whether the flooding was being caused by a water main break or a sink hole. They later determined the water was gushing from a 12-inch main line that had burst, DWP spokeswoman Christy Holland said.
Crews were excavating the site to repair the broken main, according to Holland.
An emergency operations coordinator at DWP told KTLA that the water main might have occurred a connection point that corroded.
Crews are finalizing the repair on the pipe and will have to fill the hole. Street repairs are expected to begin Thursday and the road will likely remained closed through Wednesday.
Video shot by a passing motorist a short time after the break showed water spewing several feet in the air from the broken main, causing flooding on the road and forcing cars to drive on the wrong side of the road in order to avoid the mess.
The street was damaged by the water, though the extent of it is not immediately known.
It took DWP officials about an hour to shut down water in the area, Eduardo Lopez, a senior supervisor for DWP, said.
About 40 commercial and residential customers lost water, including two local schools that closed early.
A stretch of Western was temporarily closed down between 103rd Street and Century Avenue.
"We're assuming that the water main rupture was on top of the water main, that's what gives it the appearance of being more forceful," Lopez explained.
"It was very devastating because we didn't know if it was an earthquake," said Winnetka Vaden, who owns a nearby barbershop.
"I've never seen anything like this in my life. All this pavement just erupted."
KTLA's Jennifer Thang and Alexandria Hernandez contributed to this story.