This is an archived article and the information in the article may be outdated. Please look at the time stamp on the story to see when it was last updated.
A man who tried to defend a store clerk targeted in a racist rant is apparently missing after video showed him being attacked by two people inside a downtown Los Angeles 7-Eleven store, his sister said Sunday.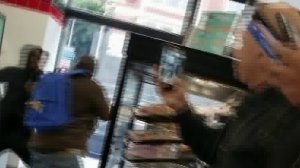 The incident – which took place Tuesday at a 7-Eleven near Seventh and Olive streets – began when a female clerk in the store was responding to a request from a female customer. The clerk told the women she needed to help a long line of customers first before heating up the woman's food, according to witness Myra Olvera.
That apparently angered the woman, who began insulting and berating the employee.
The woman yelled "Go back to Mexico," "You're fat," and "You're ugly," Olvera told KTLA.
The female customer, who was apparently black, also made comments about other customers in the store being "f—ing Mexicans," according to Olvera.
"It was horrible," Olvera said.
After the woman yelled at the clerk, another customer came to the employee's aid, telling the woman to "have some respect," according to Olvera. That's when the female customer started to attack the other customer, identified by family members as 59-year-old Frank Martinez.
Olvera, who said she was too scared to intervene, recorded cellphone video of the female customer's assault on Martinez.
The video shows the female customer screaming at Martinez and kicking over luggage he had with him, then apparently knocking his food out of his hands.
Other customers and at least two people dressed in security uniforms – one possibly a Los Angeles traffic officer – can be seen watching the woman and another young man beat the man, but none of them intervened, the video shows.
At one point, someone tries to get the attention of the officer, saying "Hey, sergeant." But the woman shouts back, "He's a f—ing traffic officer … he can't touch me."
The young man who was with the woman begins punching Martinez repeatedly in the head. The two assailants then walk out of the store together, leaving a stunned group of customers inside.
"(I was) scared at the moment because I didn't know if they were going to pull out a gun," Olvera said.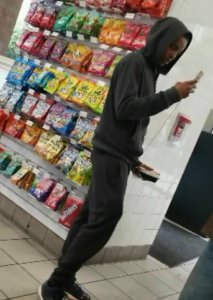 After the attack, Los Angeles Police Department officers arrived, but Martinez had left. Olvera said she believed the man was afraid and didn't want to report the attack.
Once she posted the video online, Martinez's family came forward and identified him. Relatives told KTLA he is missing and may be homeless; they have been unable to get in touch with him despite attempts to contact him.
"I don't know where he's at and I want them to find him," his sister, Dahlia Martinez, said through tears. "I want them to get justice for these people for what they did to my brother."
In an emotional interview with KTLA, she described Martinez as a gentle soul.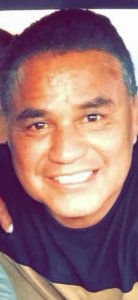 "This shouldn't have happened. He didn't do nothing," Martinez said.
Frank Martinez is depressed and has never recovered after the death of another sister, Dahlia Martinez said.
Authorities have not released information about the incident. Although police responded, no report was ever filed in connection with the incident.
Martinez and her family are planning to file a missing persons report with LAPD Monday; she wanted to do so earlier, the woman explained, but she had just been released from the hospital due to treatment for a heart condition and stroke.
Olvera, meanwhile, expressed hope for the victim.
"I just want justice for this man," she said. "Hopefully, first, God can find him and he's safe."
Anyone who has information can contact the LAPD or leave an anonymous tip through L.A. Crime Stoppers at 800-222-8477.