This is an archived article and the information in the article may be outdated. Please look at the time stamp on the story to see when it was last updated.
A man was caught on tape in the Hollywood area hitting another man walking down the street over the head with a large black object Los Angeles police have described as a backpack, knocking the man to the ground as cars drove by in broad daylight.
The video was released by the Los Angeles Police Department on Wednesday and shows an apparent assault on Oct. 20 that left the victim with serious injuries, though it is unclear why the violent encounter even occurred. LAPD detectives from the Wilshire Area are searching for the man who hit the other person, saying he's wanted for assault with a deadly weapon.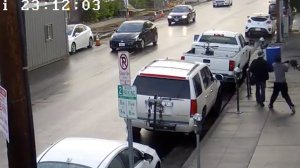 The apparent assault happened on Willoughby Avenue near La Brea Avenue, LAPD Officer N. Nunez said.
A man wearing a black beanie can be seen walking down a busy street in broad daylight, carrying a large black object police said is a backpack with both hands. When another man with white hair strolls by, coming from the opposite direction, he swings it up like a baseball bat but then holds it still, as if to mimic an attempt to hit the other man that stops short of actually doing so.
But then the video takes an unexpected turn.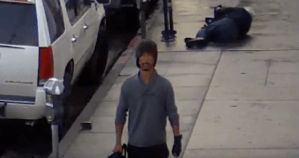 The man with the backpack starts to walk alongside the white-haired man and then suddenly strikes him from behind, slamming the object against his head and making him fall to the ground.
After attacking the other man, he walks down the street in the other direction again.
LAPD has said the attack happened "without any provocation," in a news release.
The man who committed the alleged assault is described by LAPD as a white or Asian man in his 20s who has a mustache and goatee. He stands about 5 feet 8 inches tall and weighs roughly 150 to 170 pounds, officials said.
"He was last seen wearing a dark beanie, gray sweatshirt, dark pants carrying a dark backpack," police said in a news release.
Anyone with information can contact Detective K. Mayer or Officer N. Nunez, Wilshire Area Detectives at 213 922-8231.