This is an archived article and the information in the article may be outdated. Please look at the time stamp on the story to see when it was last updated.
Police released surveillance video Monday of a bank robbery in Anaheim in hope of identifying the hat-wearing man who robbed a teller at gunpoint.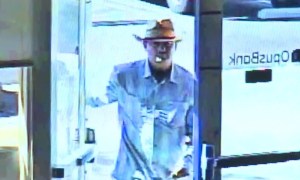 The robber entered the Opus Bank in Anaheim on the 2300 block of East Lincoln Avenue at about 1:20 p.m. on Feb. 25. He held a small, semiautomatic handgun in his right hand, pointed it at a female teller and demanded cash from a specific drawer, according to Anaheim police.
He told her not to put a dye-pack in a bag with the cash, police said.
Police said the video showed a situation where there had been high potential for someone to have been hurt.
"You can tell he is very brazen. He's willing to show that handgun, he's pointing it right at the teller the entire time," said Anaheim police Lt. Tim Schmidt. "He's serious about this bank robbery."
The robber fled in what was described in a press release last week as possibly a dark-gray Chevrolet Cruze. There may have been a female driver with him, according to the Anaheim Police Department.
He was described as a white male in his mid-40s, 5 feet 9 inches tall, 170 pounds in weight, and with a "soul patch." He wore a straw, cowboy-style hat.
It was unclear if the man was responsible for any other bank robberies.
Anyone with information was asked to call Detective J.C. Rodriguez at 714-765-1947.
KTLA's Chip Yost contributed to this article.