This is an archived article and the information in the article may be outdated. Please look at the time stamp on the story to see when it was last updated.
"Jackass" star and PETA member Steve-O may face legal repercussions after a recently released YouTube video shows him defacing a San Diego freeway sign, slightly altering the off-ramp to say "Sea World Sucks."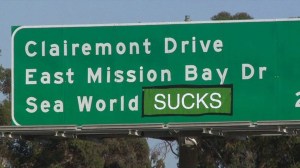 The "Sea World Drive" sign was changed in May. Although KTLA 5 media-partner Fox5 spotted Steve-O near the sign shortly after it was altered and asked the reality star if he was responsible, he denied the allegations, the San Diego-based station reported.
But a YouTube video released Wednesday shows Steve-O and multiple other people scaling the freeway sign on Interstate 5 in an apparent protest against the theme park, which has faced controversy since the 2013 release of the documentary "Blackfish."
"I'm putting my foot down for Shamu," Steve-O said in the video. "If doing that was wrong, I don't want to be right. Screw you, SeaWorld."
Steve-O has been a member of PETA, People for the Ethical Treatment of Animals, since joining the Ringling Bros. clown college, Fox5 reported.
The California Department of Transportation released the following statement about the video:
"We consider defacing public property at a cost to state taxpayers an unlawful act and a dangerous distraction for motorists. We will refer all information to the California Highway Patrol."