This is an archived article and the information in the article may be outdated. Please look at the time stamp on the story to see when it was last updated.
An investigation continued Tuesday following the emergence of a video that shows police officers in Monterey County beating an assault suspect with batons while taking him into custody.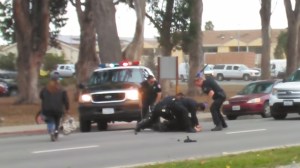 Officers from the Salinas Police Department went to Main Street, just north of Bernal Drive, at 7:14 p.m. Friday in response to a report of a man screaming, running into traffic, and jumping on cars, according to a police news release.
The man, later identified as 28-year-old Jose Velasco, was said to be trying to throw a woman into the path of oncoming vehicles, according to the release. Investigators subsequently discovered her to be Velasco's mother.
Two officers saw Velasco slamming the woman's head into the pavement as traffic passed by, officials said. The victim, who was among those who called authorities, told a dispatcher that she had tried to pull her son to safety when he ran into the roadway.
The man attacked the officers as they tried to pull him off of his mother, the statement said.
Velasco allegedly grabbed an officer's Taser and pulled it from its holster. Police attempted to subdue him by twice deploying a Taser, to no effect, according to officials.
A passing motorist recorded part of the encounter. The cellphone video, posted on YouTube, begins after Velasco was separated from the woman.
She is seen sitting on the ground as one of the two officers swings his baton at the suspect, striking him repeatedly. More police vehicles then arrive at the scene.
Two more officers join the fray. One of them visibly swings his baton several times.
"Velasco continued to struggle and resist, eventually needing five officers and the use of batons to control and place him into handcuffs," the news release said.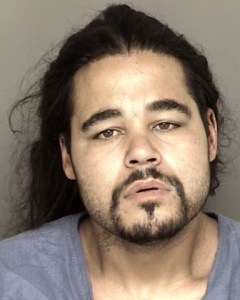 He was placed in an ambulance, where he allegedly grabbed an officer and a paramedic and attempted to bite them while being transported to  Natividad Medical Center.
The suspect was "chemically restrained" at the hospital, and was booked after being released from that facility, officials said.
"I think anybody who looks at that video without context would have concerns because it looks terrible," Salinas police Chief Kelly McMillin told KSBW, a Salinas-based television station.
"Just the video alone, I agree, is horrific and inflammatory, but when you start making sense of how we got there and what the officers were trying to accomplish there, then — it still doesn't make it pretty — but makes, I think, people understand."
The incident was under investigation, McMillin said, and the department had not yet made any judgement on the use of force.
Asked if he believed that force was excessive, community activist Raul Tabia told KSBW: "Yes, it was."
"We don't know the whole outline of it, again, the police doing their job. But when you see it on film or on YouTube it's just like, 'Wow, that's a beatdown," Tapia said. "It kind of raises concerns."
Velasco was facing charges of felony resisting a police officer and four misdemeanors: obstructing an officer, battery on an officer, assault with a deadly weapon, and being under the influence, according to the Monterey County Sheriff's Office.
He was being held on $30,000 bail.