This is an archived article and the information in the article may be outdated. Please look at the time stamp on the story to see when it was last updated.
A pod of six to nine orcas was captured on video hunting sea lions and navigating ocean waters off of Palos Verdes on Tuesday afternoon.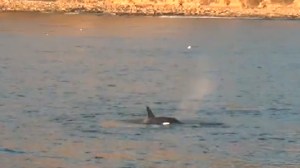 The killer whales were likely Eastern Tropical Pacific orcas, which are rarely seen off the coast of California, according to a Facebook post from the Los Angeles Chapter of the American Catacean Society, an environmental conservation and educational organization that strives to protect whales, dolphins, porpoises and their habitats.
"They are very rarely encountered in California," the post stated. "Most sightings have been Nov-Jan."
The orcas were seen going into the kelp and chasing sea lions onto rocks, according to the Facebook post.
They were believed to be the same ones that were seen in the waters off of Oceanside and San Diego over the past couple of days.
A gray whale heading south was also spotted in the area during the day, as were a number of dolphins.
The video was shot from a Harbor Breeze Cruises boat during a whale watching tour around 3 p.m.