This is an archived article and the information in the article may be outdated. Please look at the time stamp on the story to see when it was last updated.
A shocking video captured outside a Marine veteran's North Hills home shows him running to render aid to a motorcyclist who had just been involved in a violent crash that left him badly injured.
The incident happened on Sunday on Lassen Street in North Hills. Surveillance footage shows a car turn left right into the path of the oncoming motorcycle. The impact  sent the rider flying about 80 feet, and if not for the quick action of a nearby veteran, that rider might not have made it.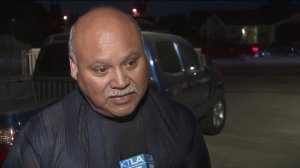 It was Veterans Day, and George Ramirez said he was watching TV when he heard the crash and came outside. He found the helmeted rider lying at the end of his driveway, and ran to help.
"I ran to help to render assistance and check his vital signs, see if he's breathing," Ramirez said. "He's unconscious but he is breathing, and I see his eyes, they're rolling back in his head."
The 20-year-old motorcyclist was clearly in bad shape.
"When I saw the blood pouring out of his righthand side, I knew I had to take some kind of action and find out where that's coming from," Ramirez said.
Passersby gathered and cut the rider's sleeve away to reveal a serious gash in his elbow. That's when Ramirez's Marine training kicked in.
"I remembered some of my training and applied pressure to his brachial artery and pinched it off, of course wearing some gloves and doing that immediately to stop and stem the flow of the blood."
Others kept the man's head and feet still while Ramirez stemmed the bleeding, until paramedics arrived and took the victim to a hospital.
Despite the nearly fatal crash, the victim is expected to survive.
"I knew that I wanted to do everything I could to help this young man," Ramirez said. "I knew that he had a family, he had people that cared for him, and I wanted to make sure he was around.
The driver of the car involved in the crash did stop and render aid.
The motorcyclist, who suffered two collapsed lungs in the crash, is now breathing on his own. He had surgery to repair his spleen and his kidneys, and his fractured pelvis.