This is an archived article and the information in the article may be outdated. Please look at the time stamp on the story to see when it was last updated.
A woman's car was crushed by a train in Santa Fe Springs Thursday night after she made a wrong turn and got stuck on the tracks, police said.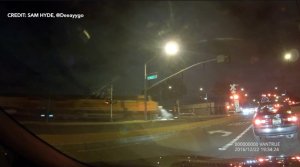 The incident, which was recorded on cellphone video and provided to KTLA by Sam Hyde/@Deeayygo, took place near the intersection of Rosecrans Avenue and Marquardt Avenue about 6:30 p.m.
The woman apparently got confused at the intersection and accidently turned onto the tracks, Whittier Police Department Lt. Tatman said.
The intersection involves a third street and it is not uncommon for drivers to mistakenly turn toward the tracks, Tatman said.
A Los Angeles County Fire Department crew was at the intersection and saw the woman turning onto the tracks, Tatman said.
A firefighter helped get the woman out of the car before it was struck by the train, Tatman said.
Video shows the train smashing into the car and pushing it several feet down the track.
It was unclear how long the stuck car remained on the tracks before it was hit by the train.
The incident was being investigated as an accident, and alcohol was not a factor, Tatman said.
No injuries were reported.