This is an archived article and the information in the article may be outdated. Please look at the time stamp on the story to see when it was last updated.
It should have been the most minor of traffic stops.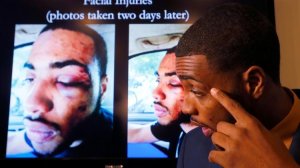 But an encounter between two Pasadena police officers and a black motorist last month has reignited the nation's heated debate over how police use force and sparked outrage in a city with long-simmering complaints about how law enforcement treats African American men.
Videos captured by the police and a bystander show one officer repeatedly hitting the unarmed motorist with a baton during the Nov. 9 incident at an Altadena gas station. Another officer screams at the struggling man to give up his hands and punches him at least five times before slamming his face into the asphalt. Finally, the officers manage to handcuff him behind his back.
"I didn't even do anything," the handcuffed man whimpers as blood pools around his head.
Read the full story on LATimes.com.