This is an archived article and the information in the article may be outdated. Please look at the time stamp on the story to see when it was last updated.
More than 100 people gathered Tuesday for a candlelight vigil at the site where two 15-year-olds who had been friends since preschool were fatally shot in South Los Angeles over the weekend.
A group of four teenagers was walking in the area of Manchester and Grand avenues in Florence, near the 110 Freeway, around 1:30 a.m. Sunday when someone opened fire on them, the Los Angeles Police Department said.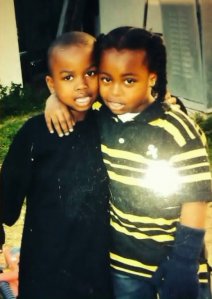 According to Bridget Green, one of the victim's mothers, the boys came from Long Beach to attend a party in the area and had just left when they were approached by two men. The men asked where the teens were from, then started shooting, she said.
One of the boys, La'marrion Upchurch, died at the scene, and the other three were taken to the hospital with gunshot wounds.
Monyae Jackson, Green's son, was among those wounded and succumbed to his injuries Tuesday morning.
Both he and his lifelong friend Upchurch were just 15. A memorial that erected in honor of Upchurch at the site where he was killed Sunday was expanded on Tuesday to include Jackson.
The other two victims were still being treated but were expected to eventually recover, friends said.
Green described her son as an old soul; she said he played football and was well-liked. She was emotional at Tuesday's vigil, searching for answers in the senseless killing.
"Jesus, why did they do this to my child? Why did they do this to these two babies?" Green asked. "It's not making no sense that all these parents are losing their children over this senseless violence. You have to stop."
La'marrion was an up-and-coming dancer who went by the name Lil BZ in his dance crew, the Long Beach Press-Telegram reported.
The group's founder told the newspaper he pioneered a style known as clowning and used it to steer youth away from drugs and gangs. Upchurch had shown a lot of potential, and his career had just started to take off, he said.
Jackson's brother Kevonte Watkins said he was consoled by his belief that the teens' tragic deaths as part of God's plan.
"Unfortunately, this had to happen, but I put it in the hands of God. He doesn't make any mistakes," Watkins said. "I know my little brother wants me to be strong so I'm not gonna shed tears for those who chose to take his life."
Damonie Smith, who was friends with both Jackson and Upchurch, was shocked by the loss but similarly choosing to focus on resilience.
"They took both my brothers from me. All I can do is stay strong for both of them," he told KTLA. "I'm happy they're in a better place, but they did leave too soon."
Police have not identified any suspects and are still searching for leads in the case. Anyone with information on the investigation can contact the LAPD's 77th Street station at 213-485-4164.
Correction: An earlier version of this article included a misspelling of La'marrion Upchurch's first name in one instance. The story has been updated.