This is an archived article and the information in the article may be outdated. Please look at the time stamp on the story to see when it was last updated.
Family and friends gathered in Pomona on Friday night for a candlelight vigil after an 8-year-old boy was shot and killed in a drive-by shooting earlier this week.
Jonah Min Hwang was fatally struck in the head around 6:30 p.m. Monday in the 1100 block of West 11th Street, according to police.
He was transported to a local hospital where he was pronounced dead. The elementary school student was adopted from Taiwan orphanage less than three years ago, his family said.
"There's no words to say, you know. What can you say when an 8-year-old gets killed?" said Pastor Rick Debruyne of the Lincoln Avenue Community Church.
A talented soccer player, Jonah loved reading, superheroes, sharing with his friends and going to church, according to his family.
"He would like to draw Power Rangers and he would like to play with his action figures," his friend Jerry Ruelas told KTLA.
Jonah's parents, Jonny and Karen Hwang, referred to him as a light in their household. The Hwangs chose to mourn privately rather than attend the vigil but released a statement to the media.
"While this has been a week of indescribable grief, we continue to be awed by the love and support that continues to pour over our family," they said in the statement. "We are so grateful for all the kind words and gestures that people all over, both near and far, have shared with us. We appreciate the community organizers who have put together a vigil for tonight to pray for and honor Jonah. We hope that despite this tragedy, Jonah's life can bring unity and healing to our city."
Authorities said he was visiting a home for dinner with his family when approximately five shots were fired into the residence. Police do not yet know whether the home was targeted, or if the shooting was random.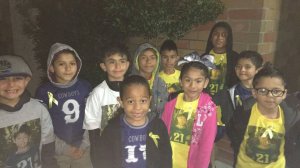 "This is something extremely out of the ordinary for us. We absolutely are putting 110 percent into finding out why this happened and bringing somebody to justice," said Chief Paul J. Capraro of the Pomona Police Department.
Friends at the vigil said the home belonged to a friend who is a teacher, like Jonah's father.
"It was random," said Irma Ruelas, who knew Jonah from church. "It was dinner, they were having dinner and a get-together."
Family friend Ken Hofeldt said the Hwang family originally moved to Pomona to work more closely with the Pomona Hope Community Center, a faith-based nonprofit that focuses on community and youth empowerment.
"That (organization) really helps the youth of this community and helps really keep them out of gangs," Hofeldt said. "It just adds to the tragedy."
"They moved to Pomona to bless people, and that's all they've done," the family's former pastor Santos Ramos said.
Many at the vigil were struck by the shock of a young boy's life cut short senselessly.
"I couldn't believe it was our own dear friend's child, that his life was taken," Kathleen Hofeldt added.
Adam Donner, the family's pastor, said any positive change spurred by the incident would be a fitting tribute to Jonah's life.
"He was full of life and full of joy," Donner said. "He would have loved to have people be motivated to make a difference in this community because of him, to see that lived on."
Anyone with information about the shooting is asked to call the Pomona Police Department at 909-620-2085. Anonymous tips can also be left through Crime Stoppers by dialing 1-800-222-8477.