This is an archived article and the information in the article may be outdated. Please look at the time stamp on the story to see when it was last updated.
Dozens of people attended a vigil Wednesday night in South L.A. for Nathaniel Mota on what would have been his 17th birthday.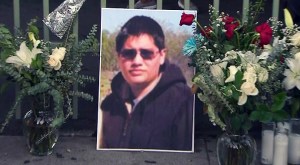 Mota was in a marked crosswalk at 42nd Street and Normandie Avenue on Friday night when he was struck by a white late-model Nissan Maxima.
The driver just kept going, police said.
Mota and his family had just left Iglesia Catolica Santa Cecilia church.
There was no description of the driver who was still on the loose.
"I forgive him.  Nothing is going to bring my son back," Nathaniel's mother Lissette Mota said.
But those attending the vigil hope that some good will come from the young man's deaths.
Family members and neighborhood residents are calling for a traffic signal at the busy intersection.
"That's what we are trying to do, get the word out.  Many kids cross here for school," Jessica Peralta said.
Anyone with information on the hit-and-run were urged to call the LAPD at 877-LAPD-24-7 or 877-527-3247.