This is an archived article and the information in the article may be outdated. Please look at the time stamp on the story to see when it was last updated.
Transgender activists and their supporters held a vigil Friday night for a 21-year-old woman who was gunned down in South Los Angeles this week, saying they fear the death is part of an alarming trend of violence against trans women of color.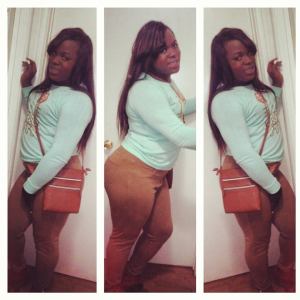 The Washington-based National LGBTQ Task Force, which was organizing the Chesterfield Square vigil for Deshawnda Sanchez, called her death the 12th killing this year of Latina or black transgender woman.
"There seems to be no end in sight to these ongoing tragedies," said Rev. Darlene Nipper, the task force's deputy executive director.
The organization has launched a public awareness campaign called #StopTransMurders.
A group of marchers took to Slauson Avenue to raise awareness about Sanchez's death, holding signs mourning for other transgender women killed locally in recent months.
"Here in Southern California, at least three trans women of color have been murdered in the past six months. This is obviously an alarming statistic," said Bamby Salcedo, founder of Translatina Coalition. "We are here, gathering today, to really bring attention to this issue."
Sanchez, known as "Tata," was fatally shot outside a Chesterfield Square home early Wednesday morning, police said. Her death was being investigated as a robbery-homicide, but Detective Christopher Barling of the Los Angeles Police Department said a hate crime motivation was not being ruled out.
Sanchez was pounding on the door of a home for help when she was shot, Barling said. The home's occupant, who did not recognize the victim, came outside after hearing gunshots.
A neighbor's surveillance camera captured a person running up to the home's porch from a vehicle and then running back. Police did not want the video made public for fear it would jeopardize their investigation.
A sister of the victim called the footage "heartbreaking."
"It's never going to be the same … My whole heart is missing," said another sibling, Sanchez's twin Deshanda Bradley.
Family members who live in Compton said they did not know why Sanchez was in the area where she was killed.
Nipper, meanwhile, called Sanchez's death part of an "epidemic" targeting transgender women of color, and black youth and men that is "fueled by hate and discrimination."
The Los Angeles LGBT Center also raised alarm about Sanchez's death, pointing to two other killings of transgender women in Southern California within the last six months: Aniya Parker's fatal shooting in Hollywood in October; and Zoraida Reyes' June death in Anaheim.
"When the victim of crime is trans or gender nonconforming, the perpetrator's ignorance, fear, and hatred often escalates the violence," the center said in a statement.
More Video: