This is an archived article and the information in the article may be outdated. Please look at the time stamp on the story to see when it was last updated.
Though the victim remains unidentified, hundreds turned out for a candlelight vigil Thursday evening in remembrance of a
young girl found dead along a trail in Hacienda Heights
this week.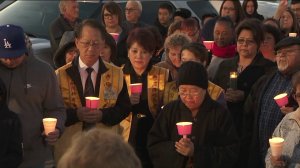 Those who attended the
memorial event
, held near where the child's body was discovered Wednesday on a hillside south of Hacienda Boulevard and Glenmark Drive, said they hoped the community would come together to keep the nameless girl's story alive so that she can receive justice. A memorial near the site, where someone had initially left a sign reading "rest in peace baby girl" and some candles on Wednesday, continued to grow. By Thursday evening, the chain-link fence was laden with flowers, balloons, stuffed animals and crosses.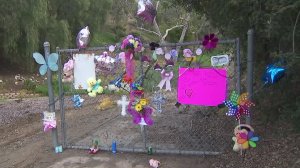 Local residents said they will be this little girl's family until investigators can solve this crime. "I just lost a granddaughter, so I know the feeling of losing," attendee Sherry Evarez said. "A stuffed animal is just a little gesture that (shows) she's going to be missed." Henry Goren, who lives in the area, said the community was still reeling from the shock of the tragic discovery. "This is a quiet residential area, and it's grown over the years but we've never really experienced this sort of thing before," he said. "And this magnitude — such a young victim — it's just unimaginable how somebody's treated like that and basically thrown off the roadway like a piece of garbage." Shette Ortega, who helped organize the vigil, said she was spurred to action because she would want the same for her family. "You just see things like this on the news that happens in other areas, but when it happens in your community it hits hard at home," Ortega said. "And especially because I have a daughter her age as well, we just wanted to come and show our support." Residents told KTLA they were shaken by the girl's death.
"It's hurting feeling for someone to take a life like this, and then dump a cold in a field in a suitcase, like she was a piece of trash," one vigil attendee told KTLA.
"I felt like since there wasn't a family holding a vigil, it was our obligation as a community to come together and put this together," another said.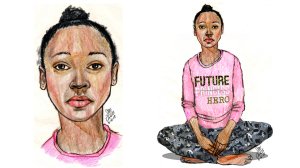 Detectives with the Los Angeles County Sheriff's Department spoke at a news conference Wednesday, asking the public's help in identifying the victim. Investigators released a sketch of the child, who they described as a black girl between the ages of 8 and 13, around 4 feet 5 inches tall, about 55 pounds, and "skinny." She was wearing a pink shirt with the words "Future Princess Hero" — with "Princess" crossed out — along with leggings with pandas on them, and no shoes. L.A. County workers doing maintenance on the trail found the body around 10 a.m. south of Hacienda Boulevard and Glenmark Drive, near the Hsi Lai Buddhist Temple. Detectives believe the body was left there sometime in the late evening hours on Sunday, March 3, and are seeking anyone who may have seen a car parked in the area. Investigators urged anyone with any bit of information, no matter how small, to contact the
Sheriff's Department
. Those who wish to remain anonymous can contact 
Crime Stoppers
.