This is an archived article and the information in the article may be outdated. Please look at the time stamp on the story to see when it was last updated.
The Gardena Police Department will held an emotional vigil Friday night for a motorcycle officer who was killed in a crash while on his way to work earlier this week.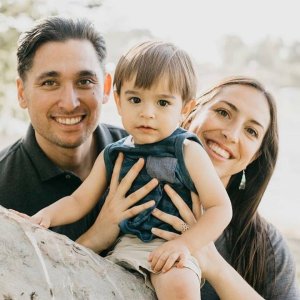 Officer Toshio Hirai, 34, was a 12-year veteran of the Police Department who leaves behind his wife, Kristen, and 2-year-old son, Takeo.
The family, his fellow officers and other loved ones assembled at the department headquarters on 162nd Street remembered him as someone who liked to live life to the fullest and laugh a lot.
"I wish you could all meet him," Kristen said. "He would have touched your heart."
Hirai, who was raised in Gardena, served in a variety of roles, including SWAT officer and traffic investigator.
"Toshio, was one of the smartest people in the room," the department said. "He spoke five languages, loved life, had the best sense of humor. He worked hard for our community. Most of all he absolutely loved and cherished his wife and 2-year-old son."
Lt. Steve Prendergast said Takeo will grow up knowing who his father was.
"He has a bunch of fathers to help him," he told KTLA. "We're going to teach him everything that Toshio would want him to know — all his passions, everything that he loved."
During the vigil, Kristen talked about his loyalty to his family and friends, his sense of humor, his drive to be the best and his quirks.
"He had terrible chewing habits that irked me," she said, both laughing and crying. "But what I would not give for him to be chewing here today."
Toshio will be remembered as "a warrior, a great a man, a great husband, an amazing father, an amazing cop," Prendergast said.
The officer was involved in a traffic collision Wednesday morning while riding his motorcycle in Harbor City.
Sky 5 was overhead as emergency crews placed Hirai into an ambulance and raced him to a nearby hospital.
"A number of outstanding doctors, nurses and other hospital staff members did all that they could to try to save Toshio," the Gardena Police Department posted on its Facebook page Thursday. "While doctors did their best to try and save him, he died at the hospital late this afternoon."
Toshio's colleagues, including Gardena police Chief Thomas Kang, gathered outside the hospital after receiving news of his death.
A photo of Toshio and makeshift could be seen through the Gardena Police Department's glass doors Friday morning.
The vigil was held in front of the station and open to the public.
Those who wish to donate to the Hirai family can do so on a fundraising page created by the department.